Hindsight is often 20/20, and allows us to analyze decisions past made. Put into the context of airplane ownership, one hard-learned lesson comes to mind. I think the single most important component in a successful aircraft renovation project is starting with the right airplane.
Over the years, I've worked with airplane owners who have made all of the right decisions in selecting the airplane of their dreams and, in some cases, others who have made all of the wrong decisions. In this article, I hope to outline a process that will help the reader avoid making the wrong choices. If there is one rule that will thread its way through this, it is definitely to remain practical! Everyone would love to have a P51, but few pilots are prepared for the cost and skill demands of owning and flying one. (photo 1)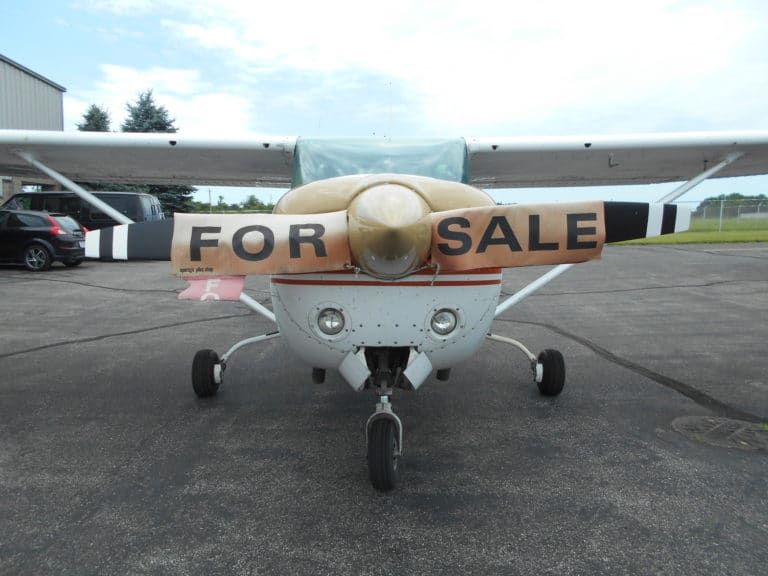 After giving this airplane search topic some thought, I have come up with some guidelines that I strongly suggest a prospective buyer should follow as you identify and purchase the perfect airplane for your needs.
Join a type club. In recent years, product support for light aircraft has become a shadow of its former self. Parts supply and technical information have in many ways shifted away from manufacturers to type clubs and secondary parts sources that have become the 'go to' resource for knowledge about supporting the aging fleet of light airplanes. Having access to knowledgeable and dedicated folks who can help you select, maintain and safely fly the airplane of choice is absolutely essential.
Is this my forever plane? Putting an older airplane through a high quality, complete renovation with desirable upgrades means that, when completed, the money invested will exceed what the airplane would likely bring on the open market. So forget about the fix and flip deal. If your current situation doesn't support having your dream plane, buy a good solid usable step-up machine, maintain it wisely and upgrade it as necessary. Good mid- 70s and -80s 182s seem to be holding their value today. When the time is right, move up to that dream plane. There's a good chance that your intermediate plane may have been a good investment.
Buy mainstream. Airplanes that have a long production history and high production numbers have enjoyed that success because they are well designed, well built, good mannered, durable, perform well and are well supported. All of these qualities help to ensure that parts supply, technical support and training will be available long into the future.
K.I.S.S. Keep it simple stupid. Ever heard that before? If you truly need the higher useful load, speed and range of a complex airplane then do the right thing. Be honest with yourself about the operating costs of retractable gear, big powerful engines with controllable propellers and turbos. The cost of maintaining all these additional points of maintenance can really add up. Spend your money on the things you truly need!
Buy for the mission. Be realistic about how you plan to use the airplane. If the vast majority of your flights are pleasure trips of less than four hundred miles with two on board, a 110 knot airplane with 4+ hours of range is the most practical. The actual block to block time difference on a 150 nautical mile trip between a 150 knot 210 and a 110 knot 172 is often less than 15 minutes. The realistic all-in costs of operating a 210 vs. a 172 is nearly double. But if long trips and the time constraints of using the airplane in a business environment are a priority, then speed and range should drive your decision.
Think it through before buying a bigger airplane. During the past 45 years of renovating airplanes for folks, something I've observed more than once is a family that upgrades from a four-place to a six-place machine, only to realize that after renovating the new airplane, the need for that capability vanishes after a few years when the kids go off to college or get married. The four-place they initially owned was actually the perfect fit for mom and dad for the next 20+ years. A solution to this problem is to ship heavy or bulky items like skis, camping gear and off-season clothing to a destination FBO or hotel, and carry only necessary clothing and travel items in the airplane. The need for high load capability is often temporary or infrequent. The expensive process of buying and renovating a larger airplane may not be the best long-term solution.
Is there growth potential? Some airframes have significant growth capacity through the installation of approved modifications. My personal Cessna 172 began life as a stock, 150 hp, 110 knot cruise, 4 hour airplane with a useful load of 820 pounds. By adding a 180 hp engine, two 12 gallon internal tip tanks, and several avionics upgrades, I now have a true 120 knot airplane with great climb performance and 1036 pounds of useful load. Thanks to the 180 hp engine and flint tanks, I have six to eight hours of cruise depending on how fast I want to go. Starting with an airplane eligible for changes, a younger pilot can buy a 'forever airplane' and upgrade it as need and dollars allow. These options apply to twins as well. There is a very long list of engine, fuel system and aerodynamic upgrades for Cessna twins, some of which can make a turbo prop driver look twice.
Keep an open mind. One of the strongest debates I have heard over the years is the old high wing vs. low wing argument. I started my training in 1960 in a Cessna 120, soloed in a Piper Colt, took my private test in an Ercoupe, and have flown every single engine airplane type that has come through Air Mod over the past 45 years. I owned half of a Taylorcraft for about eight years and have had my 1973 Cessna 172 since 1978. I have yet to meet an airplane I don't like. I do appreciate the better visibility that a low wing offers, but I enjoy the loading convenience and cooler summer cabin of a high wing airplane. When I was young, I worked for a sheet metal shop recovering and repairing wrecked airplanes. I certainly saw a potential safety advantage to owning a high wing airplane; more cabin structure is required to support the load of having wings on top and wheels on the bottom. That said, the fact that low wing Pipers have a wider landing gear and a much lower vertical center of gravity results in fewer roll-over accidents. Both designs have comparable and good safety records, so give each a fair evaluation. If your mission takes you out into the bush or on floats, the high wing is the obvious choice.
Ask a long term owner. Advertisements, magazines and flashy brochures all have their place along the decision path for an informed buyer. The real treasure trove of relevant information, however, is picking the brain of an experienced owner of an airplane that appears to be a good fit for you. Here is where a type club can help by connecting a prospective buyer with someone in the know who has accumulated a wealth of owner-operator, real life experience. They are usually happy to share their knowledge with a fellow pilot. The offer of lunch and some av gas can often result in a pleasant flight experience and a new friend.
Fly before you buy. Before committing to a specific aircraft, check to see if there is an FBO that will rent one and plan to use it for a typical trip you might fly in the future. If you've been renting a 150 hp 172 and feel that you need a more capable airplane, rent a 180 hp 172. The additional horsepower makes a pronounced difference in useful load, climb and roughly 8 knots in cruise. You might realize that the 230 hp of a 182 is really more than you need ninety percent of the time.
Be proactive. Let folks know that you're looking. Due to the demand for good used airplanes, a high percentage of the good ones change hands privately. Local maintenance shops, flight schools and FBOs are good places to broadcast your desire to buy a specific type of plane.
Check FAA records. In the process of deciding on a specific airplane, consult a local mechanic or FAA office and get a list of airworthiness directives that are required for the subject airplane. Some airplanes and engines have very few ADs and other will surprise you. Less is more here; it probably equates to a better airframe and component design.
 Check with an insurance underwriter. Are you insurable in what you want to buy? What are the costs involved? What is the safety record with your airplane choice? Tail dragger vs. tri-gear, etc.
 Try to buy an aircraft with as many of the features you desire already installed. Big dollar items such as engine upgrades, avionics and auto pilots do not increase the resale value of the airplane nearly as much as they cost to install.
Avoid airplanes with heavy hail damage or that have been poorly repaired with sketchy damage history and logbooks. Airplanes with properly documented damage that have been well repaired can be a safe and good buy. Finally, avoid airframes with substantial corrosion. Be careful when considering an airplane that has lived near salt water, in the high humidity southeast or stored outdoors in heavily air-polluted industrialized areas.
Get a thorough and independent pre-purchase inspection (photo 2). Buying an airplane without a pre-purchase inspection is the same as buying a used car sight unseen. Next month's article will cover all the details to look for in a Cessna, especially concerning corrosion and damage history.

Photo 2

Logbooks (photo 3). We are fortunate today to have the ability to scan and email logbooks and paperwork in advance of a potential purchase. Take the information to a mechanic who is familiar with that make and model aircraft and pay that person for a few hours of their time to decide if further inspection and consideration is warranted. It's also not a bad idea to pay a friend or a trusted mechanic in the area where the candidate airplane is located to perform a cursory one-hour inspection. If both have a good outcome, it's time to move on to a full pre-purchase inspection.

Photo 3

Last but not least, conduct a title search through the FAA information center in Oklahoma City. I failed to do this during my first airplane purchase in 1970, only to discover an unresolved lien that had to be cleared up in 1973 when I was selling the airplane to help cover start up expenses for Air Mod.
It is important to put all the tedium of these eighteen suggestions into perspective. It's probably safe to say that many of my customers have owned or will own their forever airplanes longer than their homes. Following good advice will help make living with your dream plane all that it should be. Until next month, fly safe!