What a difference 50 years can make. During my college days back in the late 60s, I had a job where I would occasionally be sent to ferry a new Cessna from the distributor back to Lunken Airport for delivery to its new owner. To this day, I can remember the look, feel and smell of a new, ferry-time-only airplane. Very few of us have the opportunity to own a brand-new airplane, but there are obviously many older airplanes out there in need of upgrades that can in many ways elevate them to exceed the design, comfort, performance and safety of a new airplane. After graduating from the University of Cincinnati as a newly minted industrial designer, I tried two "real" jobs before deciding to pursue my true passion of renovating airplanes. The key word here is passion. I believe it is the glue that holds the general aviation community together. Folks who own, fly and maintain these wonderful machines do it primarily out of love of flying. That brings me to my motivation to share the things we have learned at Air Mod that help insure that these aging airplanes can be saved for future generations.
Installing a new interior in a Cessna presents a great opportunity to really see into every nook and cranny of the cabin area with all interior components and insulation removed. About 15 years ago, I realized we were dealing with an increasing number of non-upholstery issues, such as corrosion (photo 1), questionable wiring (photo 2), degraded static and fuel lines (photo 3), leaking windows, and so on. These problems were becoming almost commonplace in the majority of airplanes going through our shop, so I decided to make it standard practice to invest the time necessary to repair all of the technical issues we discovered. Corrosion being a major problem, we started with antiseptically cleaning all floors, bulkheads and cabin skins, followed by a thorough application of corrosion controlling zinc chromate. The corrosion mitigation process will be described in a future article.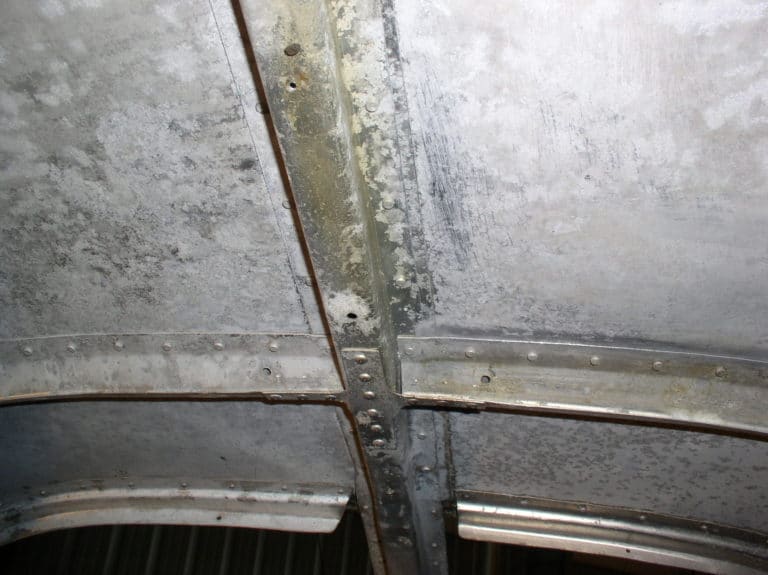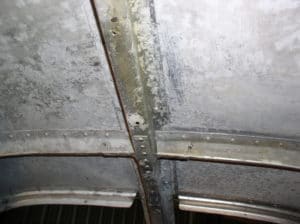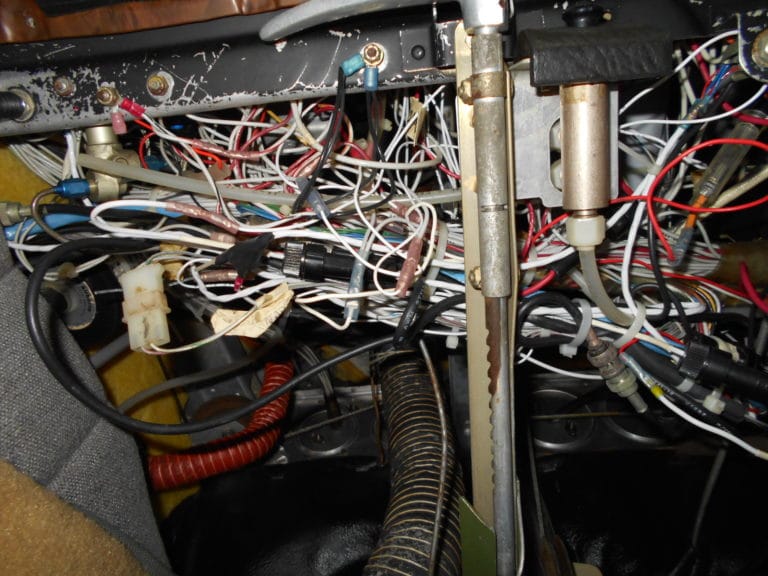 This total approach to renovation has made a very pronounced change in both the time required as well as the cost involved in fully renovating the interior of a 40 plus year old Cessna. I often mention in seminars I present that the time has come in this world of general aviation to either save these airplanes for future generations of pilots or let them slowly deteriorate and end up in a salvage yard, where their corroded airframes will be picked clean of useable parts to support the dwindling number of still airworthy airframes. Some readers may feel that this is an overly pessimistic comment. But in my business, I see far too many airplanes that are deteriorating before our eyes. Conditions that cause various aging airplane problems seem to apply to all makes and models of older airplanes, no matter the value of the airframe. High dollar 310s are as susceptible as 150s.
When Air Mod first opened its doors in 1973, the scope of work required to renovate an aircraft interior was much less than the task we face today. I remember back to one of the first interiors we did in an early 60s Cessna 205. Working twelve-hour days, a part-time assistant and I actually completed the job in two weeks. This was possible for a number of reasons. First and foremost was the fact that, at the time, the airplane was only ten years old, and certainly did not present many of the issues we would see today in the same, now 55 year-old airplane.
A second factor was that, at the time, our customers typically did not add much to what we included in a full interior renovation. Today we offer an extensive list of upgrade items that customers often choose to do in bringing their airplanes up to 21st century standards. These include safety enhancing four-point inertia reel shoulder harnesses, more efficient and quieter ventilation systems, LED lighting, super soundproofing, thicker glass, fully articulating seats, composite side panels with recessed armrests (photo 4), and custom instrument panels with exotic wood trim, to mention a few.
A third issue adding to today's longer down times involves avionics installations and maintenance done by two partner companies located here at Clermont County Airport. Coordinating these projects while the interior is being renovated makes it convenient for a customer. But, bottom line, the 205 interior that took two weeks to complete in 1974 has become an eight- to ten-week project in 2018.
Corrosion isn't the only aging airplane issue that must be addressed. We often encounter other problems such as neglected or poorly executed maintenance and carelessly installed upgrades. In coming months, I will submit a series of articles that will cover in detail the work required to truly renovate an entire cabin from the firewall to the aft bulkhead. I plan to walk readers through each step in the process, with photos showing all of the tricks we've learned over the past 44 years, including tools and supplies required to thoroughly execute the job.
Here's the good news. For most of the airplanes in the fleet, the level of degradation is at a point where it can be stopped with proper intervention, saving these airframes for the future. The other good news is that 95% of what is required to mitigate corrosion and upgrade an interior can legally be done by an owner under the FAA guidelines of preventative maintenance, FAR part 43 appendix A(c). AC43-13-1B is an excellent "how-to" manual from the FAA, and a must for every handy aircraft owner to have. Armed with this great resource, you will have concise and clear guidance as to how to properly perform many of the tasks that are required to keep your airplane in tip-top shape.
The following is a list of the steps we take during a typical renovation of cabin and interior in a forty-year-old airplane. In upcoming months, we will work our way through the major items on the list with descriptions of processes accompanied by photographs. Some readers may have questions, so don't hesitate to call. I am committed to helping save these irreplaceable machines.
Remove and secure all documents and personal items.
Perform a complete ergonomic study of the pilot seating station. Using temporary foam pieces, locate the lumbar, thorax and thigh support with the customer sitting in the cabin mock-up in our office.
Cincinnati Avionics will (at Air Mod's expense) test radios, intercom, autopilot, electrical components and lights for function. Findings and recommendations will be communicated to the customer.
Remove and evaluate existing side panels, seats, headliner, carpet, insulation, floor inspection panels, and window trim.
Inspect all structures and skins for corrosion. Remove corrosion and glue from inner cabin skins, spar carry-through and related components. Chromate all inner surfaces and appropriate components with self-etching chromate (see note at end regarding removal of corrosion).
Clean exposed antenna connections and inspect all systems and controls. Notify customer of any problems and correct per customer's request.
Strip seats to bare frames, perform a complete mechanical and structural inspection, and repair as required.
Install heavy sling reinforcement straps on seat frames and install a new seat sling. This keeps the sling from stretching or coming loose from the frame and prevents future sagging.
If requested, build the height of the seat back structure to accommodate the stature of the customer. Many of our customers choose this option as an alternative to having headrests. This item requires appropriate FAA approval and a form 337.
Build new seat foam, shaping with several densities of flame retardant urethane foam. The new foam is contoured to fit the customer as determined by measurements taken earlier.
Clean, mask, prime and paint all seat frames to match the new interior color scheme.
Sew and fit the new seat upholstery. Shaping is done with hidden sewn-in rods and pulls to insure long-lasting structural integrity, eliminating sagging and shifting. All seams are double lock stitched to prevent seam failure. All seat panels have backing foam and backing fabric to insure proper fill.
Strip side panels to bare metal. Factory cardboard panels are replaced with new aluminum panels; existing metal panels are repaired to be in like-new condition or made new (there is an additional charge for repairs to or replacement of side panel components).
Temporarily install the non-upholstered panels. Check for fit and lay out of the new design; modify if necessary to insure ease of installation and removal when upholstered. Fill in ashtray holes if requested.
Sew and mount side panels using new high-density, flame retardant backing foam and upholstery material of choice.
Prep, paint and placard plastic trim, door & window trim and cabin components. Refinishing of these parts is included in the interior quote, but any necessary repairs are additional.
Clean, mask, sand, fill and paint all door frames and related interior airframe trim with custom matched interior paint.
Install all new multi-density insulation behind side panels, in doors and behind headliner. In some cases, there is a charge for special composite insulation and soundproofing.
Clean below floors and behind rudder panels as required.
Clean all seat tracks. Buff or paint heater outlets and similar components.
Install new windlace cord on doors; install reupholstered side panels using new hardware.
Strip headliner panels, and repair or replace as required. Plastic headliners are re-formed and reinforced with aluminum as necessary to prevent future sagging or warping (repairs and reinforcement of components are billed on a time & materials basis).
Fit, sew and install new headliner and reupholstered sunvisors, if applicable.
Cut and fit new carpets for cabin floor, baggage compartment and related surfaces. Special attention is made to allow for future removal and reinstallation without removing seats.
Serge all carpet edges; sew on velcro and heel pads. Insulate the underside of the floor carpets with heavy density, flame-retardant foam. Bond velcro to floors and install the new carpet.
Reinstall existing lap belts and shoulder harnesses or install new and/or re-webbed components per customer's request. Most of our customers change their belts and harnesses at interior time due to color and/or condition.
Install cabin seats. Lubricate all door and seat latches.
Pre-delivery safety and function check:  25+ items covering the complete interior, radios, flight controls and electrical components, including a final check by Cincinnati Avionics.
An A & P mechanic will make all necessary logbook entries and weight & balance changes, and check that all placards are in place.
Wash and ground-run aircraft to prepare for customer delivery.
Other items are handled on a time & materials basis, such as:
      Reinforcement and repair of aluminum and plastic cabin components
      Replacement parts, the need for which cannot be predicted
      Painting and placarding of instrument panel, pedestal & circuit breaker panels
      Glareshield modification, repair and upholstery
      Repair or replacement of damaged floor boards
      Extra map cases, storage boxes, cup holders, gooseneck maplights
      Installation of new harnesses and lap belts or re-webbing of existing
      Windshield and window installations
Some owners reading through this list will realize that some of the work is beyond their ability. Sewing seats and headliners come to mind, among other things. Fortunately, there are companies, Airtex being one, who can provide quality interior kits and components with good product support for those wanting to install a mail order interior. I highly recommend that an owner undertaking interior renovation work seek the advice of his or her A&P mechanic and arrange for that mechanic to inspect the stripped-out cabin structure, systems and seat frames for signs of any airworthiness issues that can be hidden from view during routine maintenance when interior components and insulation remain in place.
Many owners may choose to renovate their airplanes incrementally, removing one side panel at a time, and cleaning, chromating and insulating the exposed structure of that one area. I have mentored a number of people through this process over the years. So, whether you are planning to have a professional shop renovate your airplane, or you plan to do part or all of it yourself, stay tuned. Upcoming articles should help guide you in your decision making. Until next time, fly safe!